Change Display Order on a Schedule Report
The Display Order will allow you to customize your report in your desired arrangement.
1) Click on the Analytics icon from the navigation menu, then select Schedule Report option in the Reports section.
2) Select any Display Fields from the drop-down menu that is important to the user.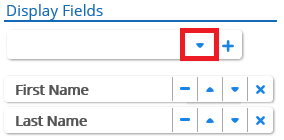 Note: Do not forget to press the flashing Plus Sign to add the field to your selection.
3) Press the green bar to change the attributes order within the report.

4) Press the Apply button to see the changes in the Report Preview.
5) To save the selection for the future, select Save As.

6) Enter a Name and select the Scope from the drop-down.
7) In the future, the profile can be found from the Schedule Report drop-down.