Assign an Employee to a Training Job via Roster
This article will walk through the steps necessary to assign an Employee to a training Job using the Roster. 
1) Click on the Scheduling icon from the navigation menu, then select the Roster option in the Schedule section.
2) Select the desired training date for the trainee by selecting the day to the right of the desired Employee. 
3) From the sidebar on the right, select the Create Assignment tab.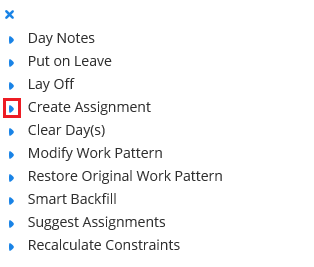 4) From the Create Assignment drop-down, select the desired Job Location and/or Job. 
5) If the training job is not demanded, unselect the Filter by Demand checkbox.

6) From the Shift drop-down, select a shift.
Note: the user can use the double arrow to set a more specific Start and End Time. 
7) Check the Locked checkbox. 
Note: Checking Locked insures that Schedule generation will not affect the Assignment. 
8) Press the Save button.