Modify an Existing Work Pattern
Past Work Patterns can be edited at any time. 
1) Click on the Administration icon from the navigation menu, then select Work Patterns option in the Patterns section.
2) Press the Edit button corresponding to the Work Pattern to be changed. 

3) The Pattern drop-down lets the user add a new pattern element. 

4) By using the small up and down arrows, the user can change the order of pattern elements.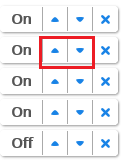 5) Press the Save button.