In order to audit the Users, you can navigate to the Users Page in order to view their status and preferences and also visit the Trace access page to view the latest logins.
1. Click on the Administration icon

.
2. Select Users from the User Security section.
3. You can filter the list of Users by searching for a specific user from the Search bar

or by selecting to filter them by Name, Status (Active/Inactive), Login Search (Usernames), Orphan (Associated with Employee) from the Advanced Filters drop-down menu

.

4. Click edit

next to the user you wish to view.
5. On the General tab, you can see his Organizational Units association, Language, Culture, Homepage, Main Menu, and Account Type. You can also choose to Suspend, Inactivate, or Delete the User.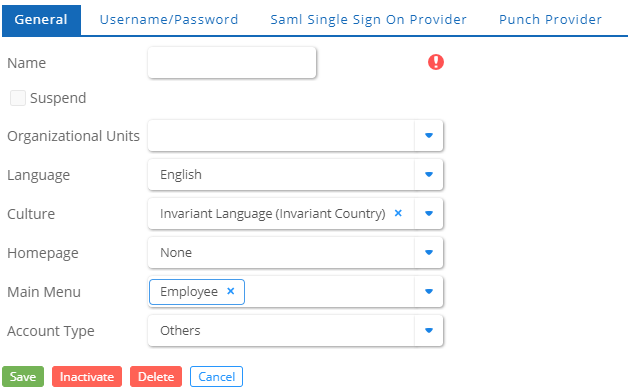 5. On the Username/Password tab, you can view his Username if the Company is not using SSO to log in. You can create/delete a username/password and you can also Lock or Unlock the selected username.

Note: If the Company is using SSO you can perform the above actions via the 
Saml Single Sign On Provider tab.
6. In order to view the User's last login information, you can click on the Analytics icon

, and select Trace Access under the Reports section.
7. On the left of your screen you can choose the date range from the Period section.
8. On the Details section, click on the Type drop-down menu and select Login.
9. On the User drop-down menu select the name of the User.
10. Click Apply.